Order Custom Polo Shirt In Singapore
Updated: 04.11.2015 by admin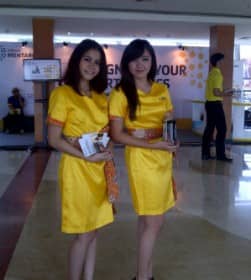 Order Custom Polo Shirt In Singapore – Polo shirt is easy and comfortable to wear. As Singaporean love to have gathering outside, and held many below the line marketing gimmick. Polo shirt is the best choices for you.
We are indonesia first and best Custom SPG Uniform offer our service to you Singaporean Company to use our service.
Sent you requirement wheater it a Custom Polo Shirt or any kind of Promotional Sales Outfit. We can make it for you. The benefit of using our service is mention below :
1. You can buy in low quantity. As low as 2 dozens in one design
2. Any logo and tagline can be embroidery as needed.
3. Low shipment cost.
4. You work with expertise in clothing industries.
So.. what are you waiting for. Email us your order at info@bajuspg.com and start design your own uniform
3.
testimonials
what our clients say
Sebagai event organizer, bekerja sama dan memiliki vendor seperti bajuspg.com adalah keputusan yang tepat, bajuspg.com membantu kami memenuhi kebutuhan klien kami , menyediakan produk yang tepat dan sesuai dengan kebutuhan
Bumbu Berkomunikasi event organizer
Menyelenggarakan event promosi luar daerah kerap dilakukan perusahaan, terutama demi menggaet klien dan customer baru, menggunakan jasa bajuspg.com demi menyediakan baju bagi spg kami di saat-saat akhir menjelang event berlangsung memang tepat.
Marzuki – Viar Motor
newsletter
subscribe & get regular updates